VV Oil - Unscented
1.7fl. oz. / 50mL
Regular price

$36.00

Sale price

$36.00
Share
Description

Microbiome-Balancing Private Oil Concentrate (Unscented)

Seeking a scentless solution for an itchy, irritated, or dry V-spot? If you want all the hydrating benefits of V.V. Oil but have sensitivities to fragrances, this unscented oil is your new best friend.

Specifically designed to soothe, hydrate, and balance hypersensitive areas and reaction-prone skin, this fragrance-free, gentle, all-natural formula is perfect for your armpits, inner thighs, and vulva (even right after hair removal!).

Formulated with a proprietary post-biotic blend, Unscented V.V. Oil helps maintain a healthy bacterial balance in your most private areas for a healthy, less irritated surface. With zero added fragrance, this oil is designed to protect and restore delicate skin that can be disrupted by sweat, tight clothing, humidity, and more.

Use it to:

- Prevent ingrown hairs
- Smooth and brighten skin
- Hydrate dry patches
- Eliminate unwanted odors
- Soothe skin after waxing or shaving

Luxurious and plant powered, this fast-absorbing, lightweight oil leaves your skin feeling balanced and clean all day long. The base exclusively uses nature-derived emollients, and natural antioxidants to keep you fresh. Rosemary, sunflower seed + rice bran extracts help keep the skin smooth and elastic.

CAUTION: THIS PRODUCT IS NOT INTENDED TO BE USED INSIDE THE VAGINA.

Product weight: 50ml
Directions For Use

Direction: Apply 2-3 drops on clean skin, and massage until it is absorbed. It can be used on skin around the vulva, inner thighs, under-arms and other parts of the body that tend to suffer from dryness or ingrown hairs due to frequent shaving and waxing. CAUTION: THIS PRODUCT IS NOT INTENDED TO BE USED INSIDE THE VAGINA.

Vegan. Cruelty-Free. Free of Artificial Fragrance & Colors.
Ingredients

CAPRYLIC/CAPRIC TRIGLYCERIDE (COCONUT DERIVED), SIMMONDSIA CHINENSIS (JOJOBA) OIL, OLEA EUROPAEA (OLIVE) FRUIT OIL, SACCHAROMYCES FERMENT, ASPERGILLUS FERMENT, ORYZA SATIVA (RICE) BRAN EXTRACT, ROSMARINUS OFFICINALIS (ROSEMARY) EXTRACT, HELIANTHUS ANNUUS (SUNFLOWER) SEED EXTRACT, TOCOPHEROL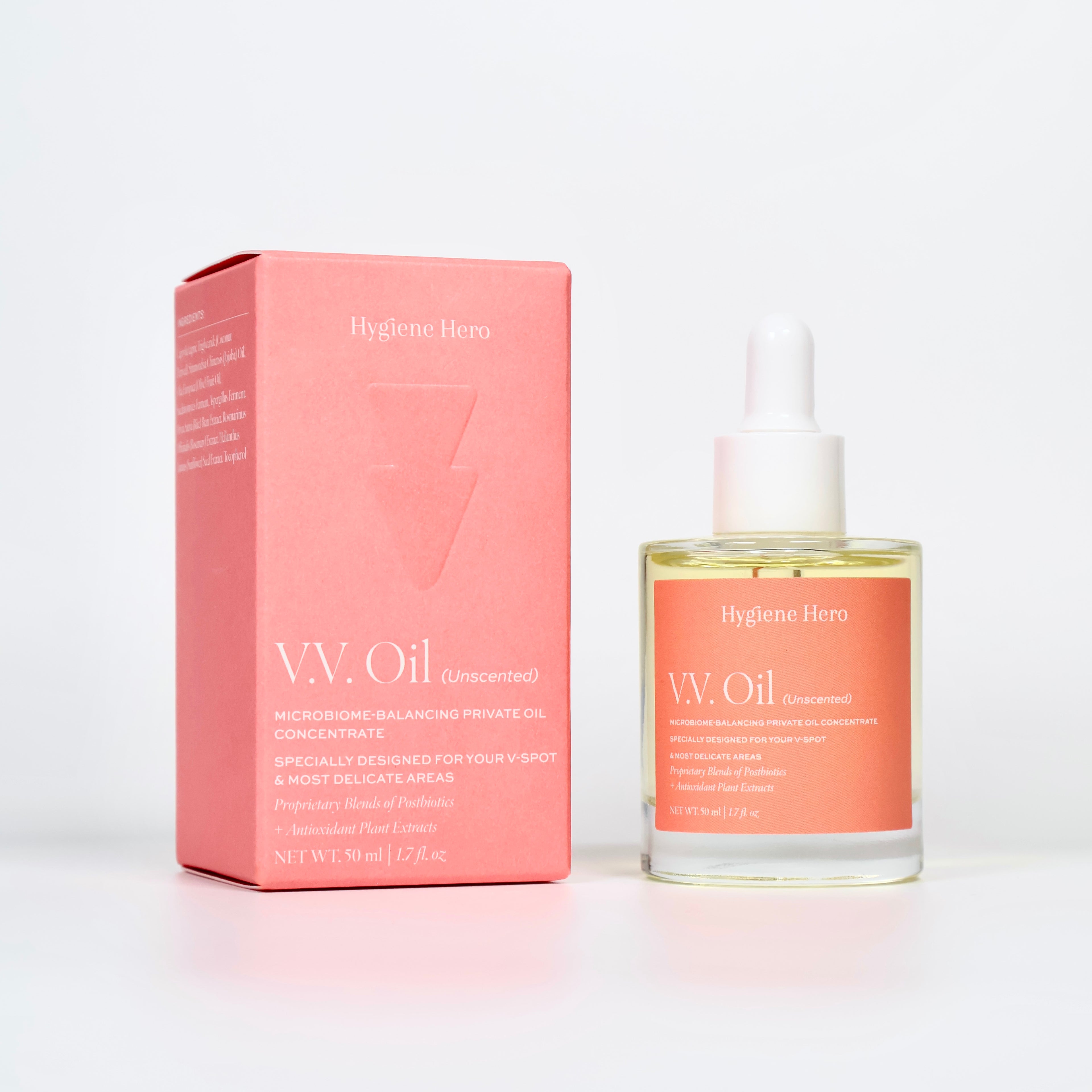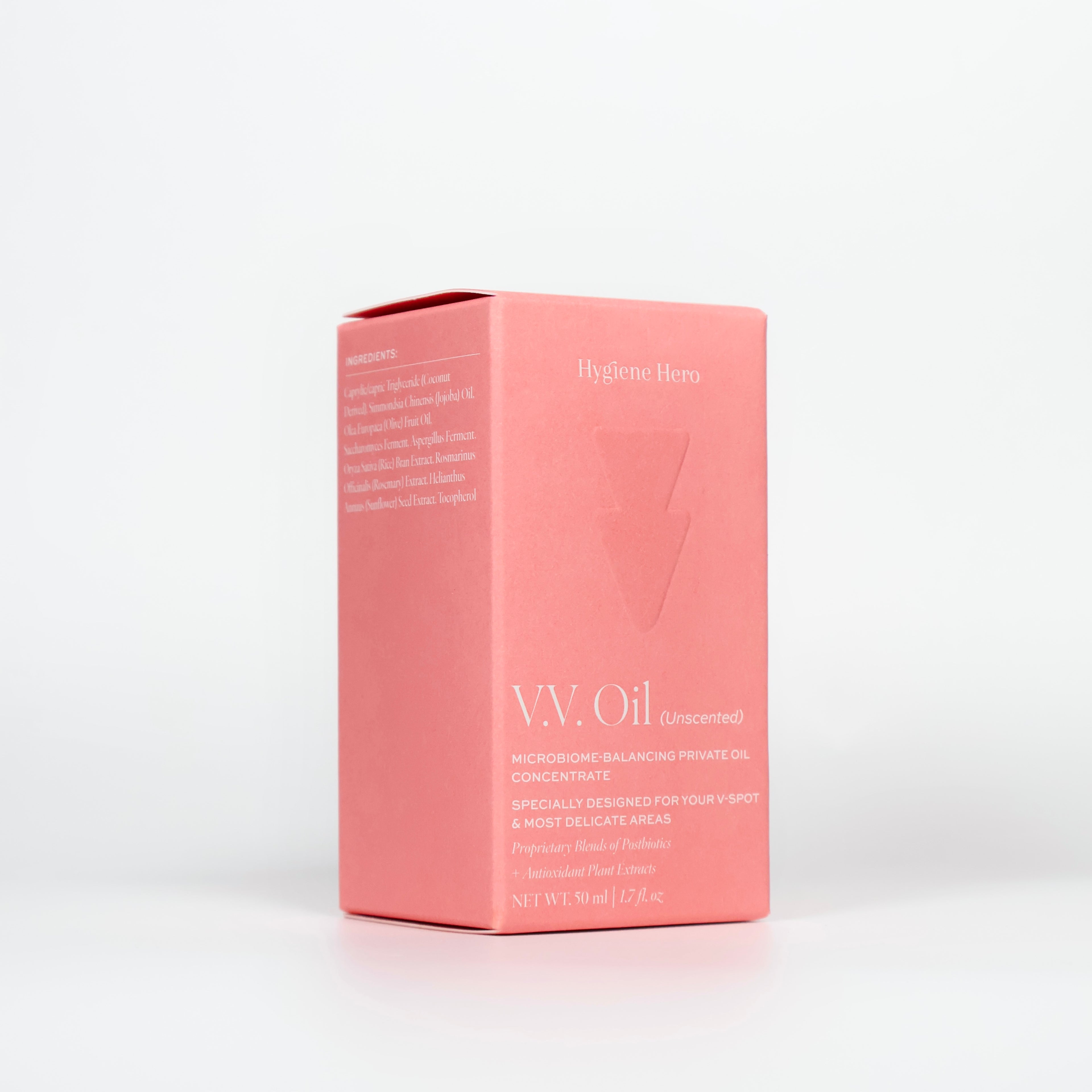 Key Ingredients
Rice Bran Extract

Benefits: Softens & smoothes skin texture

Sunflower

Benefits: Brightens, hydrates, calms & protects skin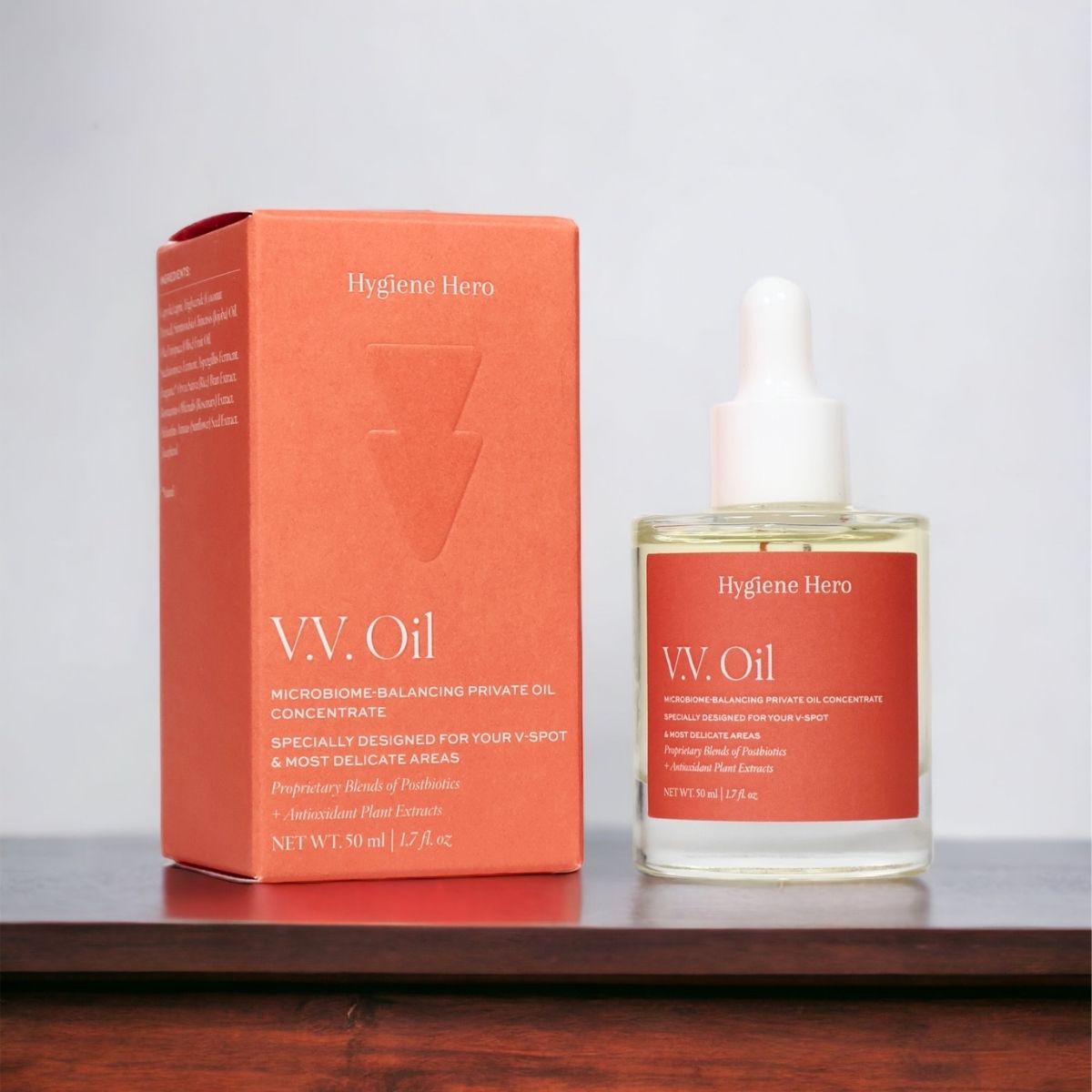 Hygiene is more than a necessary daily ritual — it's a form of self-love. More than that, we believe it should be a delight so that you can face each day feeling your freshest. Too often, women's most delicate areas are overlooked and underemphasized in everyday routines. Enter: V.V. Oil. This Microbiome-Balancing Private Oil Concentrate gives your most private areas the tender loving care they need on a regular basis.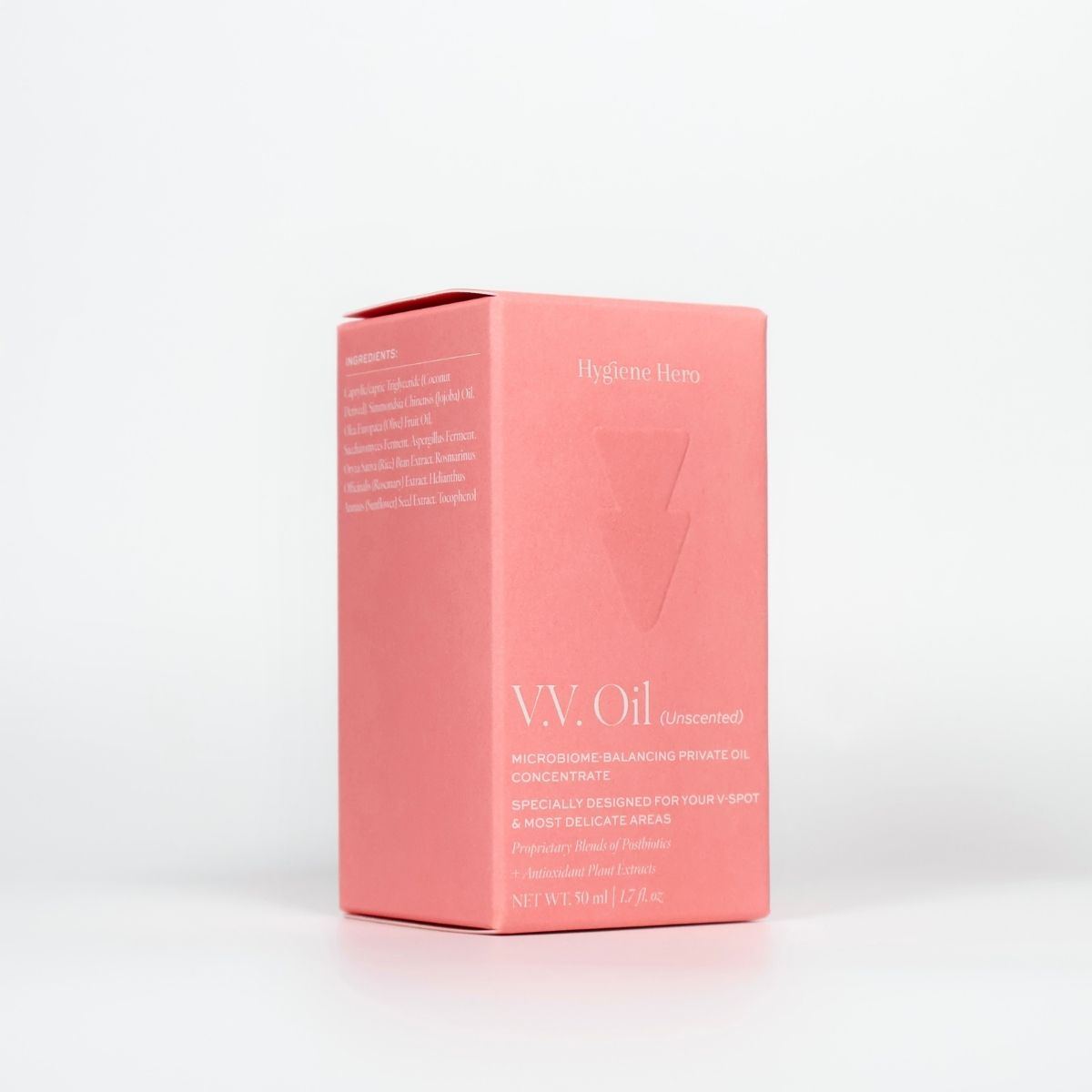 Using a delicate blend of natural oils and post-biotics, V.V. Oil nourishes and rebalances your microbiome for a smoother, less irritated surface. Specifically designed to be ultra gentle on sensitive areas, this oil prevents delicate skin from being disrupted by everyday irritants like sweat, tight clothing, humidity, shaving, waxing, and more. It's the restoration and protection your vulva deserves.
Our Commitment to You: 
100% natural | Handcrafted | Vegan | Non-GMO | Cruelty-Free | 
Free from Artificial Fragrance, Colors, Sulfates, Detergents & Gluten