Matte-Cha Bar
3.25oz / 92g per bar
Regular price

$18.00

Sale price

$18.00
Mix and match any Face Bar to save up to 22%
Share
Description

Our Matte-Cha Bar is here to save your daily skincare regimen! The Matte-Cha Bar is formulated to detoxify and purify the skin, giving you a new glow while mattifying oily zones. The not-so-secret ingredient? Organic matcha green tea! The superpower behind this Hygiene Hero delivers a trifecta of benefits, including: fighting free radicals, reducing the appearance of fine lines and wrinkles, and calming redness around blemishes. Amazing!

In addition to green tea, powerful peppermint oil in our Matte-Cha Bar has several benefits for your skin:

- Naturally cleanses the skin with cooling and calming effects
- Balances bacteria and prevents pore clogging and blemishes
- Controls sebum production and minimizes shine

Directions for Use

Apply directly on wet skin in circular motion to lather. Rinse with warm water. Use morning and evening for the most mattefying results. Avoid contact with eyes.

For external use only. Avoid contact with eyes.
Ingredients

Saponified Organic Oils of Palm (Sodium Palmate), Coconut Oil (Sodium Cocoate), Olive Oil (Sodium Olivate), Palm Kernel (Sodium Palm Kernelate), Mentha Piperita Oil (Peppermint) Essential Oil, Organic Matcha Green Tea (Camellia Sinensis Leaf Extract), Mineral Pigment (chromium green oxide), Rosmarinus Officinalis (Rosemary) Flower Extract

Please note that no orangutans were harmed or impacted by the palm oil used in our bars. As a 100% animal-cruelty free company, we only use certified organic palm oil from Agropalma in Brazil, which is not a habitat for orangutans. In fact, Agropalma won a Greenpeace award for their commitment to the environment: for every acre put into production, two acres are set aside in a nature preserve.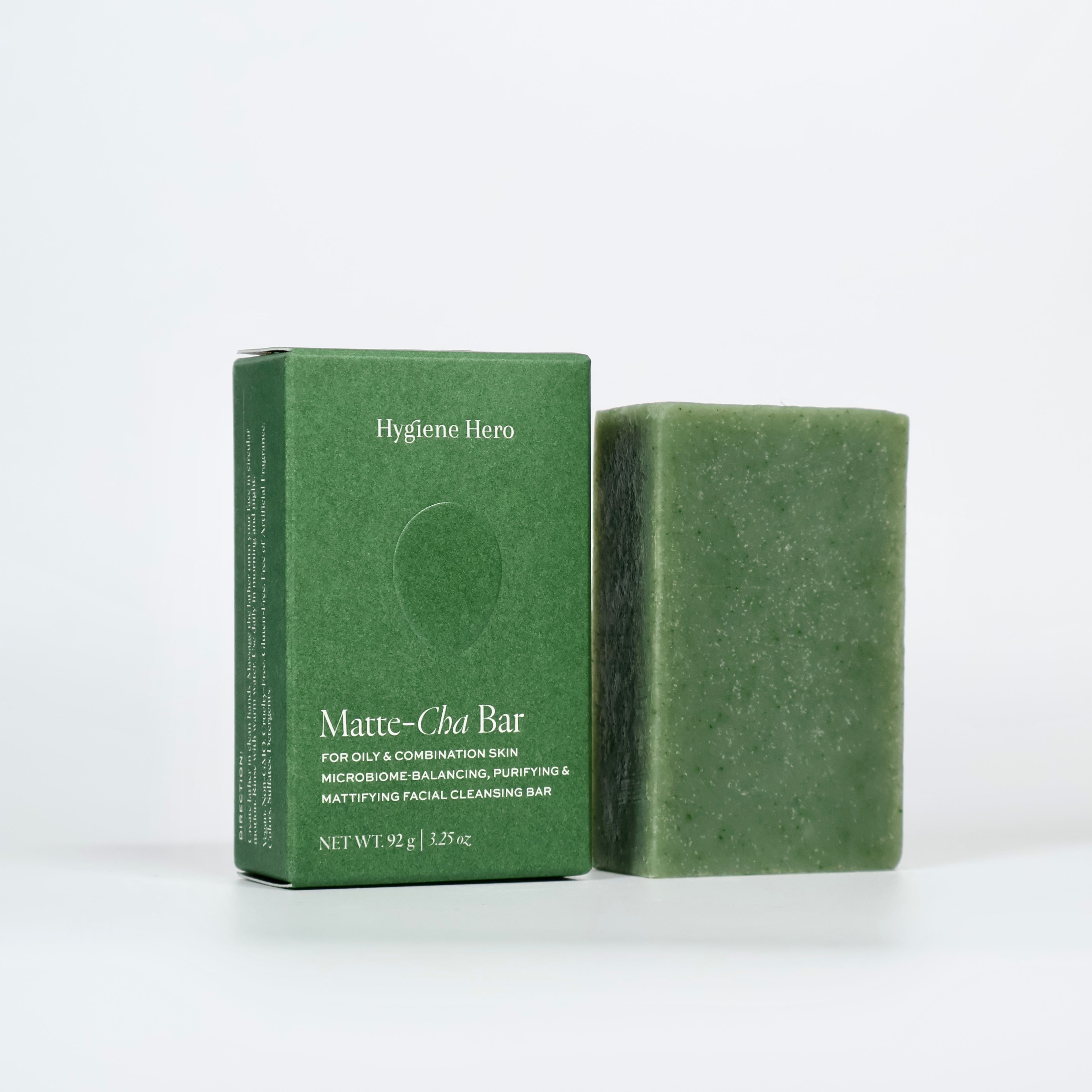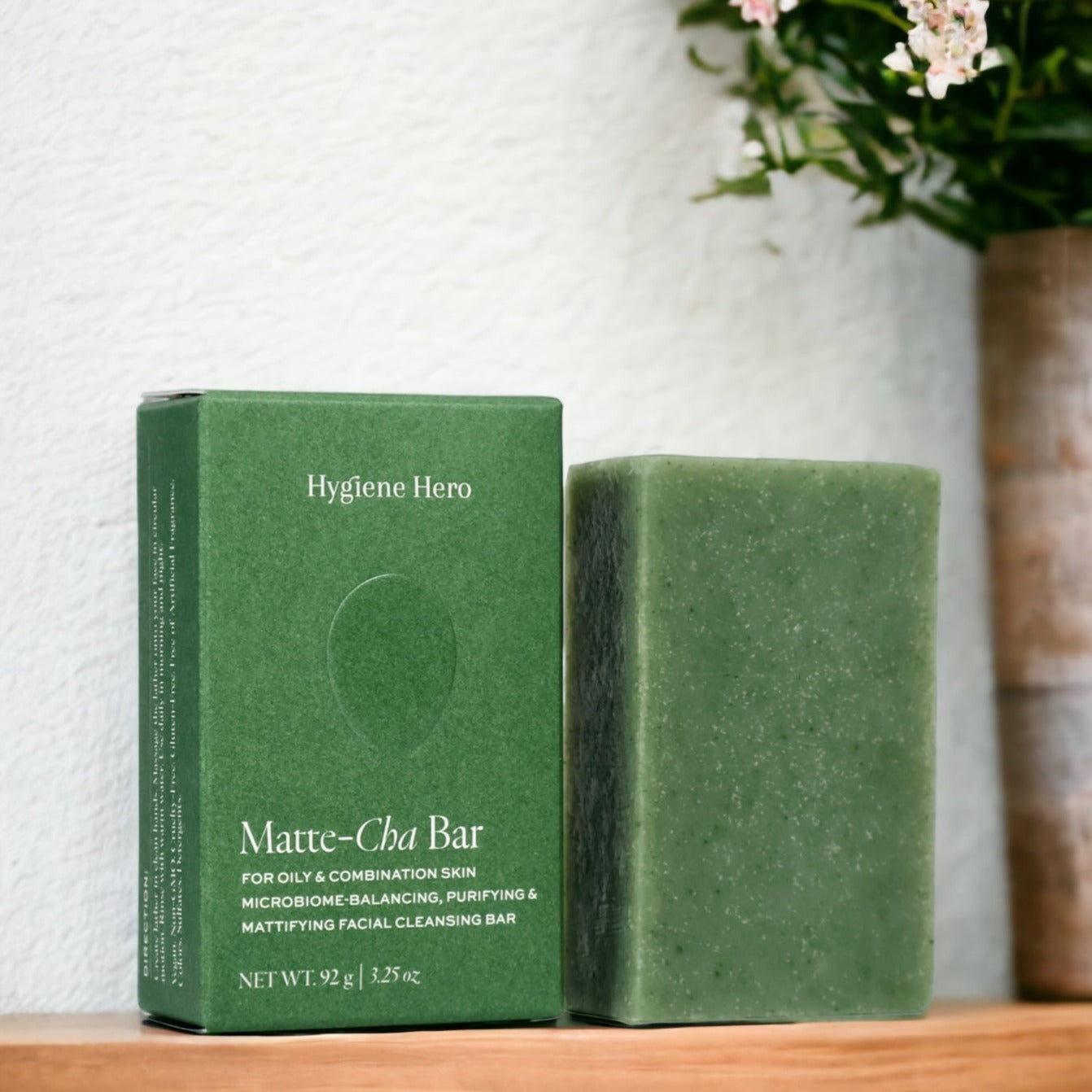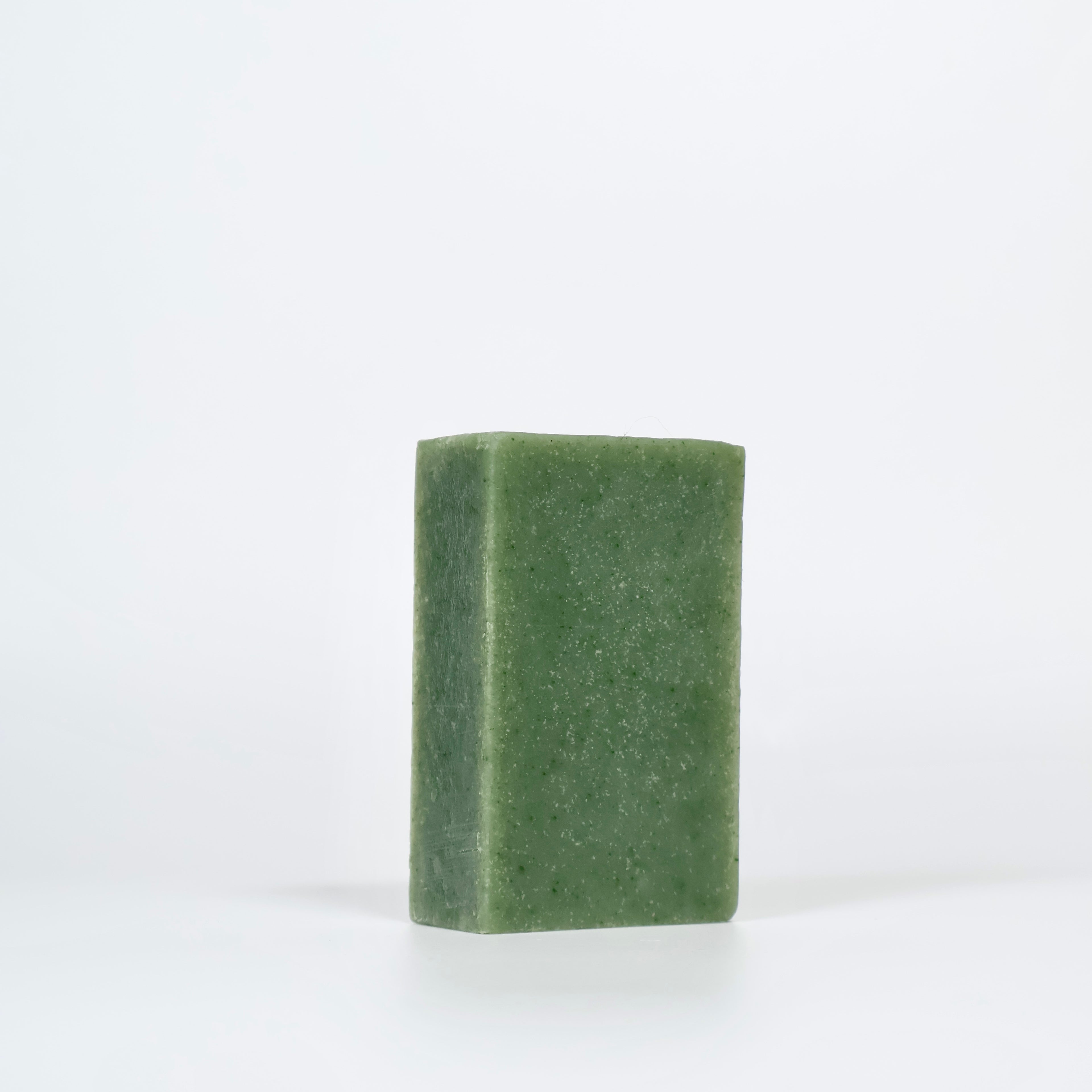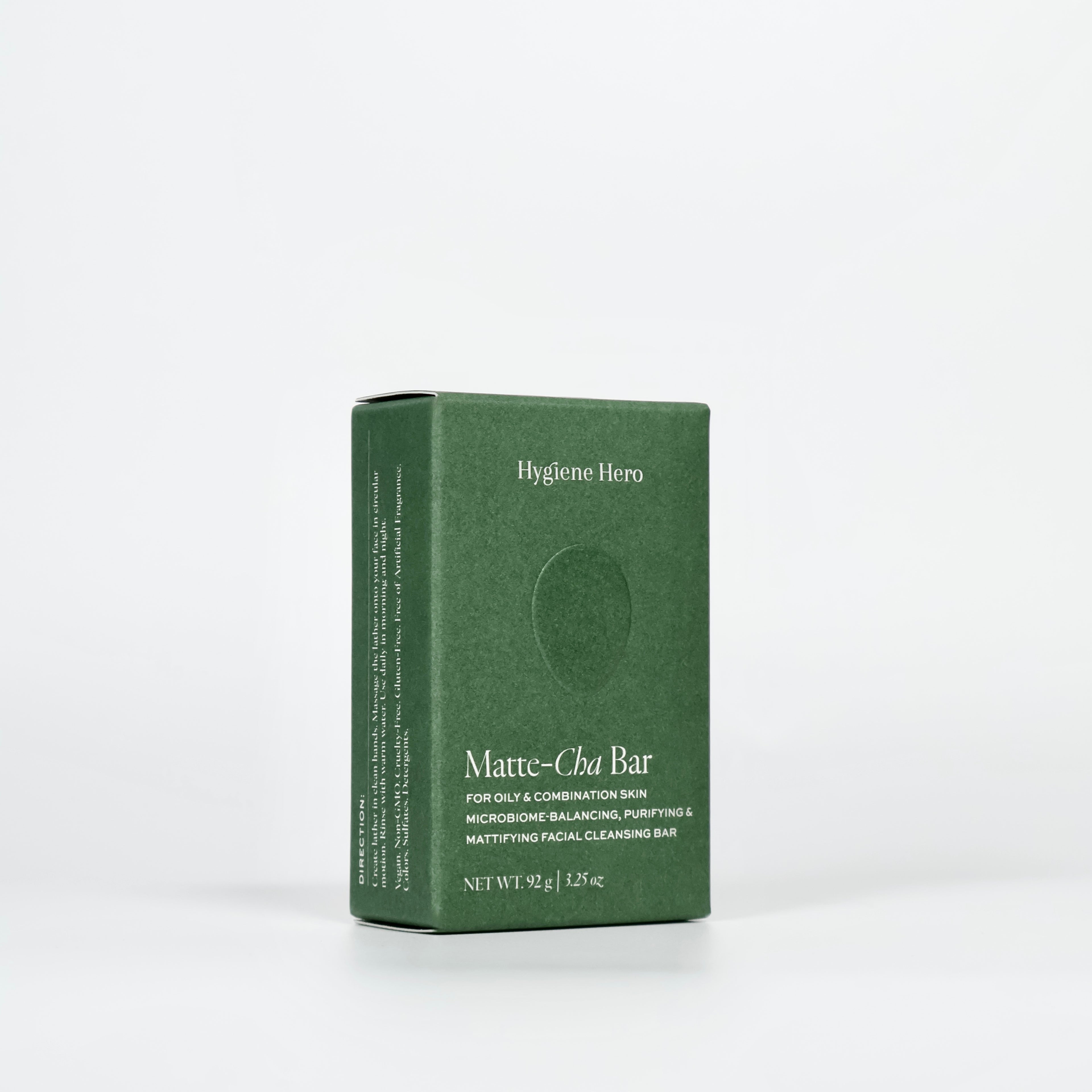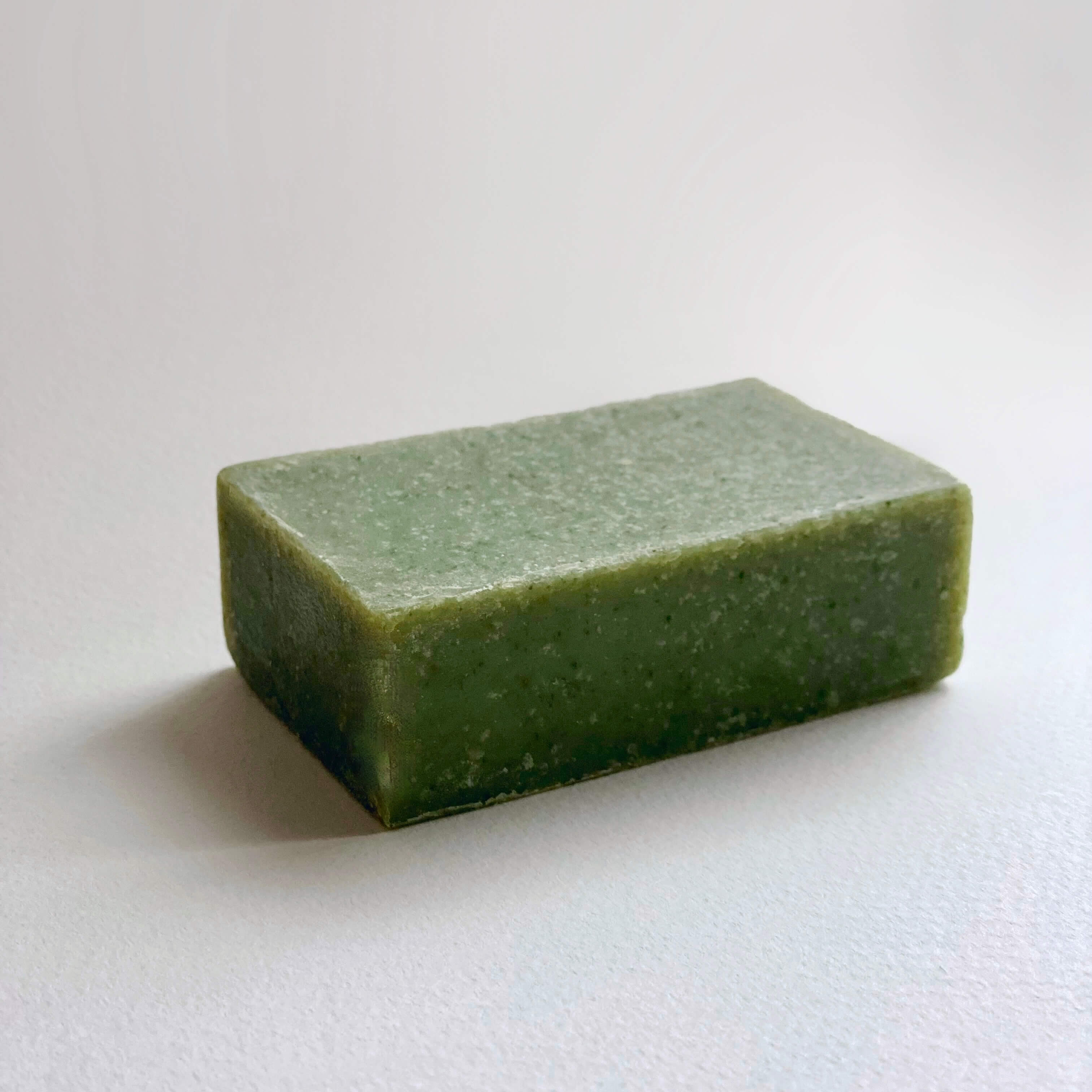 Key Ingredients
Benefits:

Brightens skin tone & reduces appearance of wrinkles

Benefits:

Softens & moisturizes skin

Benefits:

Cooling & anti-inflammatory

Benefits:

Unclogs blocked pores & clears complexion
So often, our skincare products do the opposite of what we actually want them to do. Rather than protecting and nourishing, they strip skin of its precious natural oils, resulting in more damage than benefits. Hygiene Hero Facial Bars are designed differently with natural ingredients that help balance your skin. Each bar in our lineup offers its own individual superpowers, ready to come to the rescue based on your skincare needs.
Our Hero Hydrating Bar will quench your skin's thirst with a burst of moisture and hydration without leaving behind any oily residue. Our Matte-Cha Bar uses organic green tea to detoxify and purify the skin while reducing shine in oil-prone areas. And our Beyond Blemish Bar activates the power of charcoal to remove toxins, banish blemishes, and minimize pores. 
Which powerful Hygiene Hero Facial Bar will you call on to save your daily skincare regime?
Our Commitment to You:
Vegan | Non-GMO | Cruelty-Free | Gluten-Free | Powered by Solar | Made in the USA |
Free from Artificial Fragrance, Colors, Sulfates, & Detergents