Daily Ritual Oatmeal Private Bar
3.25oz / 92g per bar
Regular price

$22.00

Sale price

$22.00
Mix and match Calming Triangle, Daily Ritual Oatmeal and Exfoliating Cranberry Private Bars to save up to 25%
Share
Description

Activate your selfcare superpower with our Daily Ritual Oatmeal Private Bar. This all-natural facial-grade soap is designed to gently clean, soothe and protect the delicate skin around your vulva–even after shaving!

Here's how it works:

- Oatmeal moisturizes and removes dead skin cells
- Mild pH helps cool down irritation and redness
- A special blend of essential oils–including Lavender, Cedarwood, and Eucalyptus– eliminate odor with a lovely, clean scent

Perfect for the delicate skin on your face, arm pits, or vulva, but strong enough to be used from head to toe. Pair with our Exfoliating Cranberry Private Bar for a powerful two-part hygiene regimen that will have you feeling fresh and fabulous all day.

Directions For Use

Apply directly on wet skin in circular motion to lather. Rinse with warm water. Use daily to keep skin happy and healthy.

For external use only. Avoid contact with eyes.

Ingredients

Saponified Organic Oils of Palm (Sodium Palmate), Coconut Oil (Sodium Cocoate), Olive Oil (Sodium Olivate), Palm Kernel (Sodium Palm Kernelate), Lavandula Hybrida (Lavandin) Oil, Avena Sativa (Oat) Kernel Meal, Citrus Aurantium Dulcis (Orange) Oil, Cedrus Atlantica (Cedarwood) Bark Oil, Rosmarinus Officinalis (Rosemary) Leaf Oil, Eucalyptus Globulus (Eucalyptus) Leaf Oil

Please note that no orangutans were harmed or impacted by the palm oil used in our bars. As a 100% animal-cruelty free company, we only use certified organic palm oil from Agropalma in Brazil, which is not a habitat for orangutans. In fact, Agropalma won a Greenpeace award for their commitment to the environment: for every acre put into production, two acres are set aside in a nature preserve.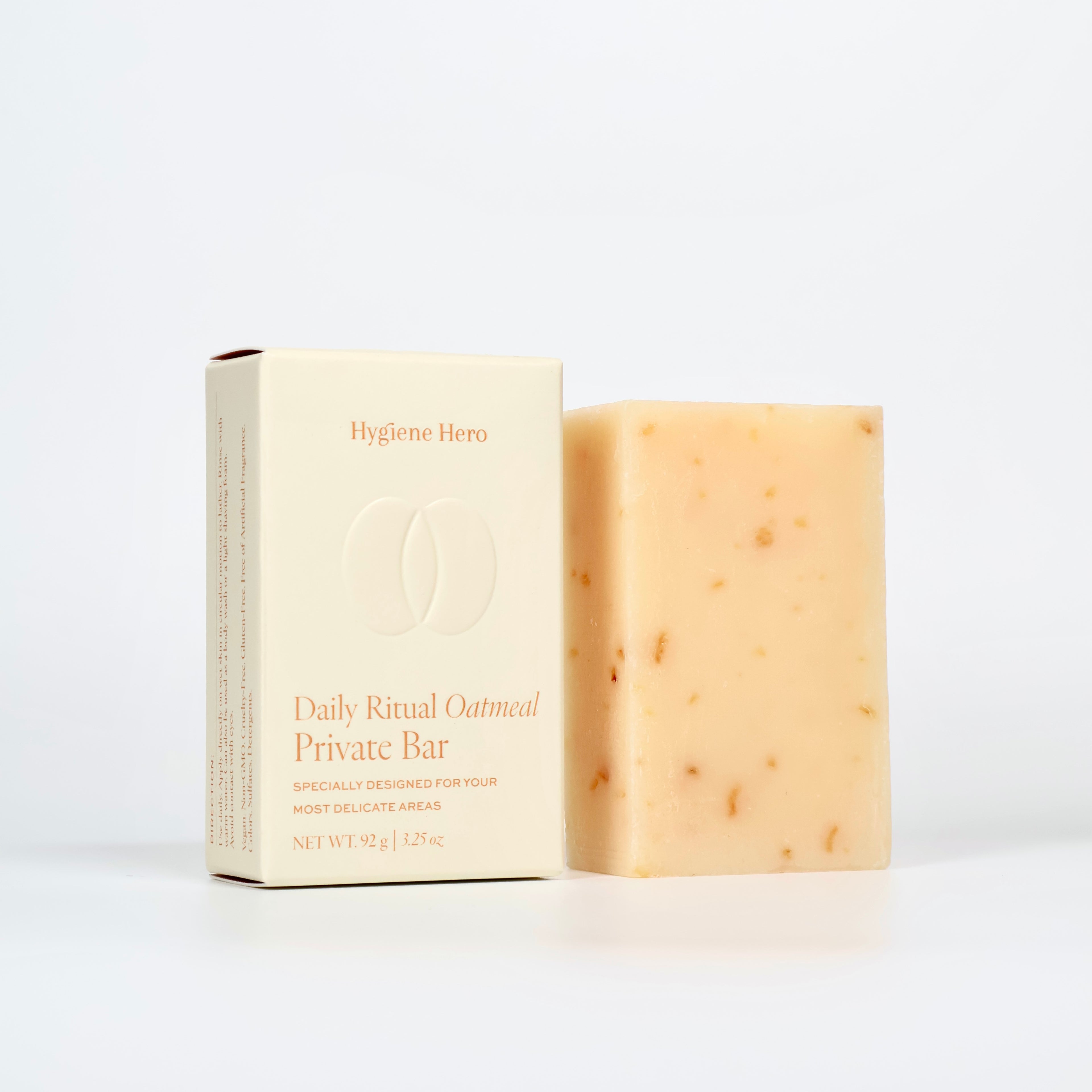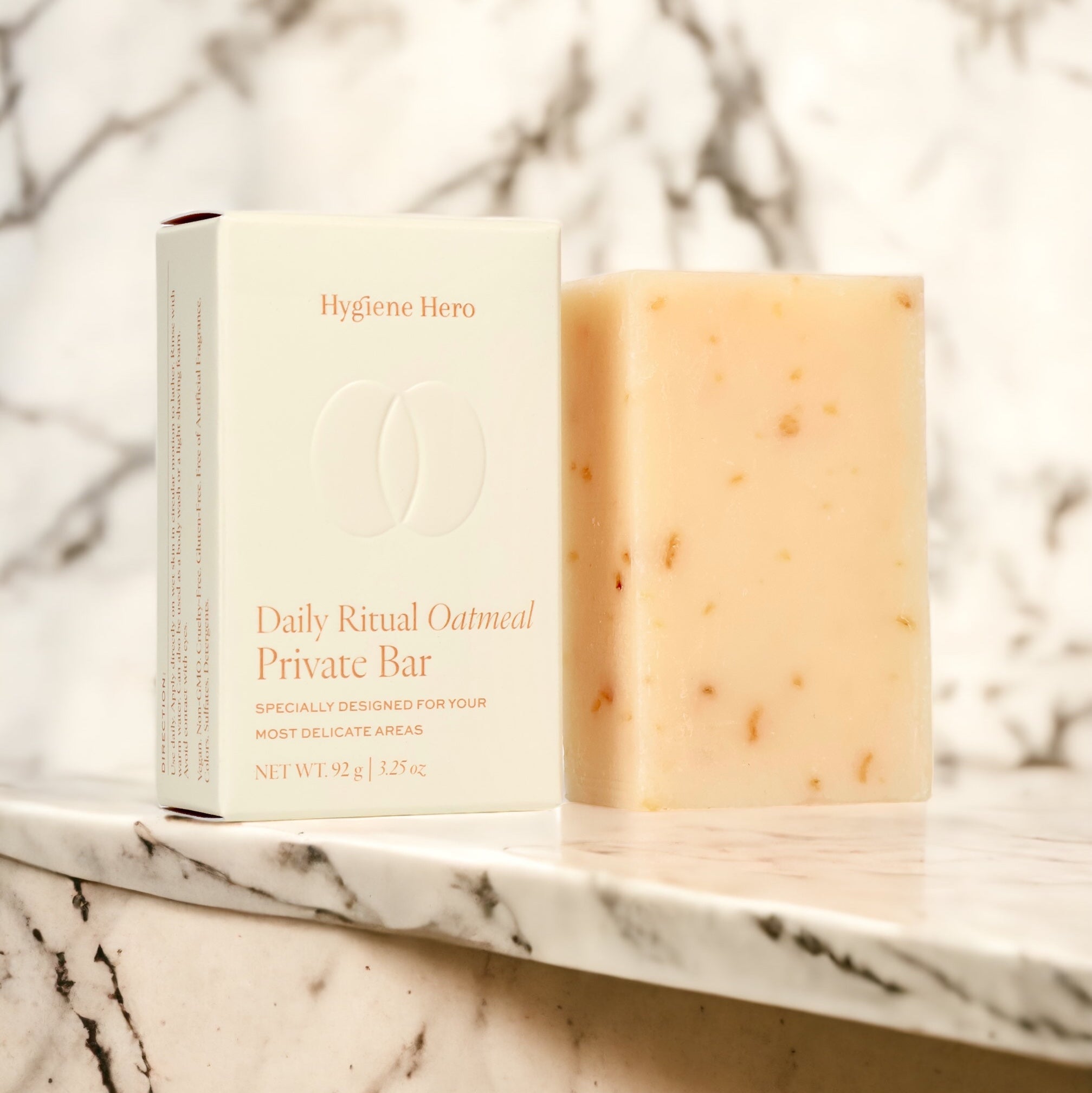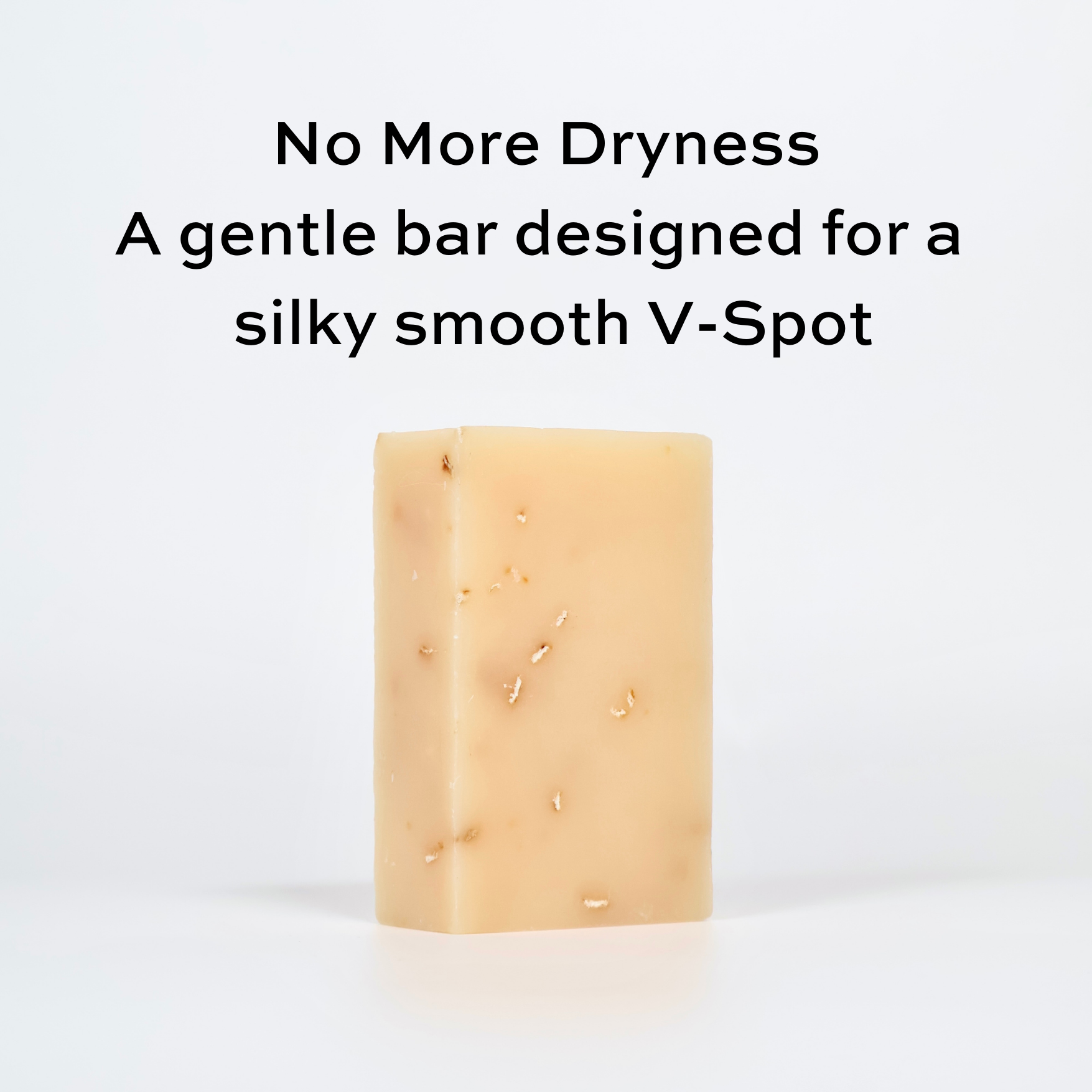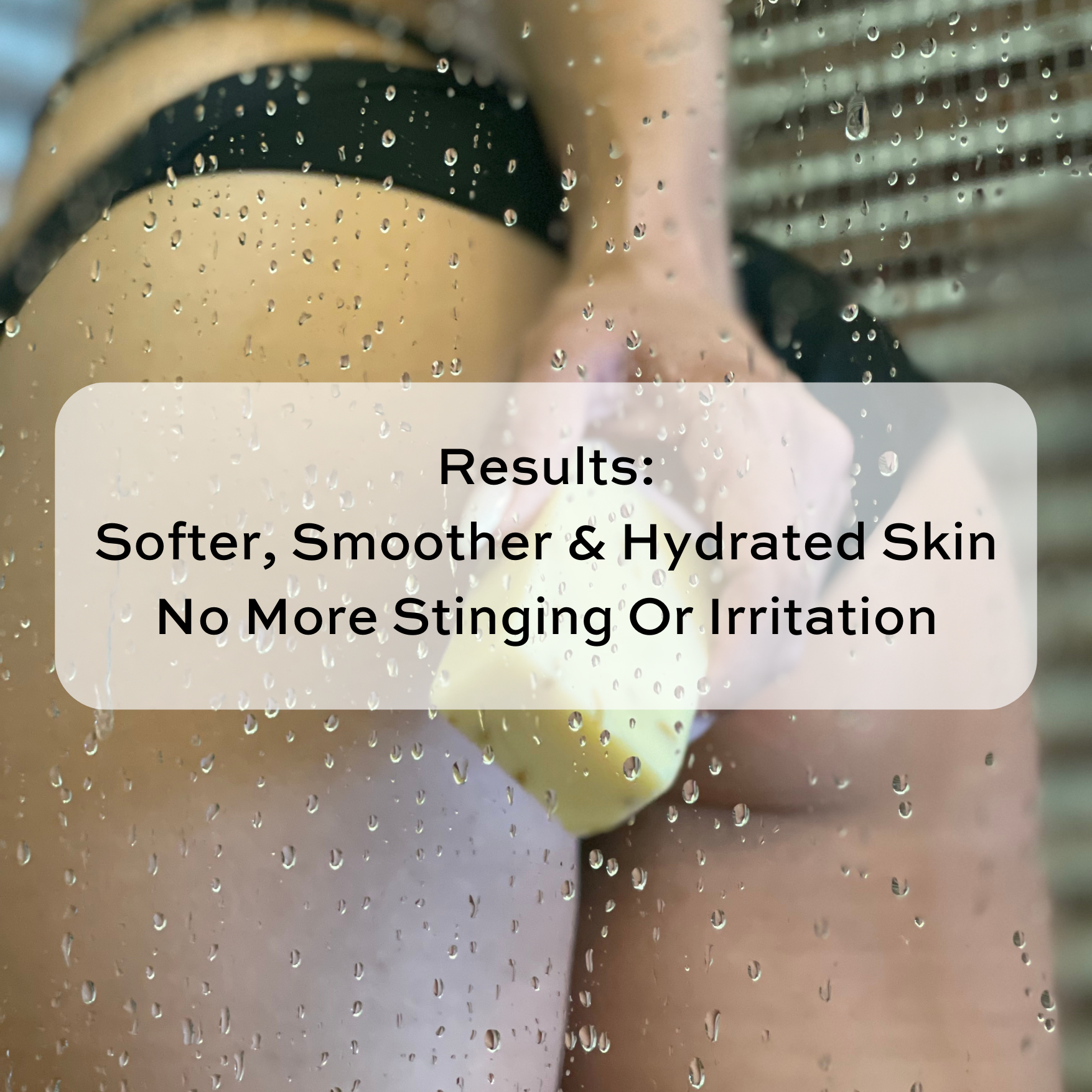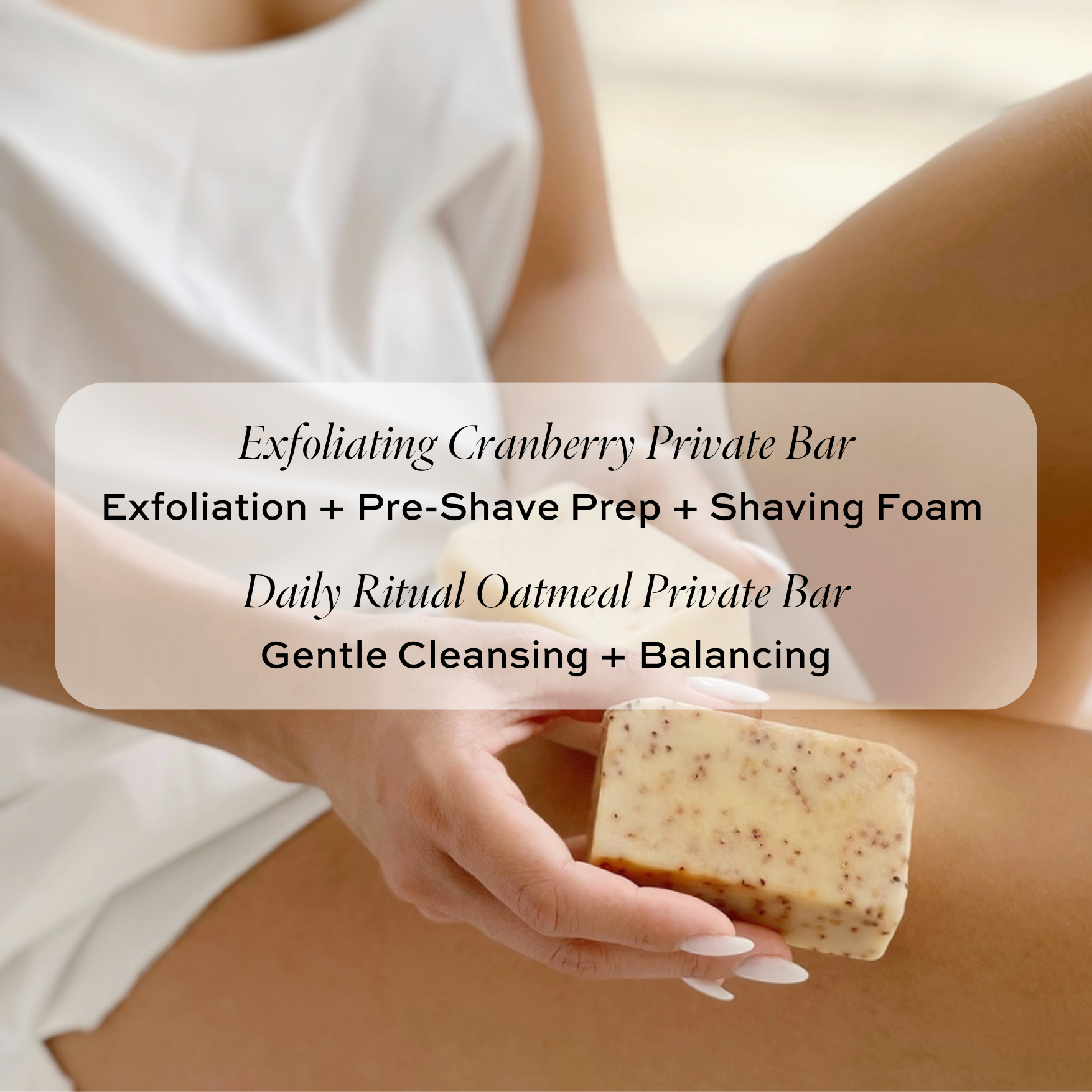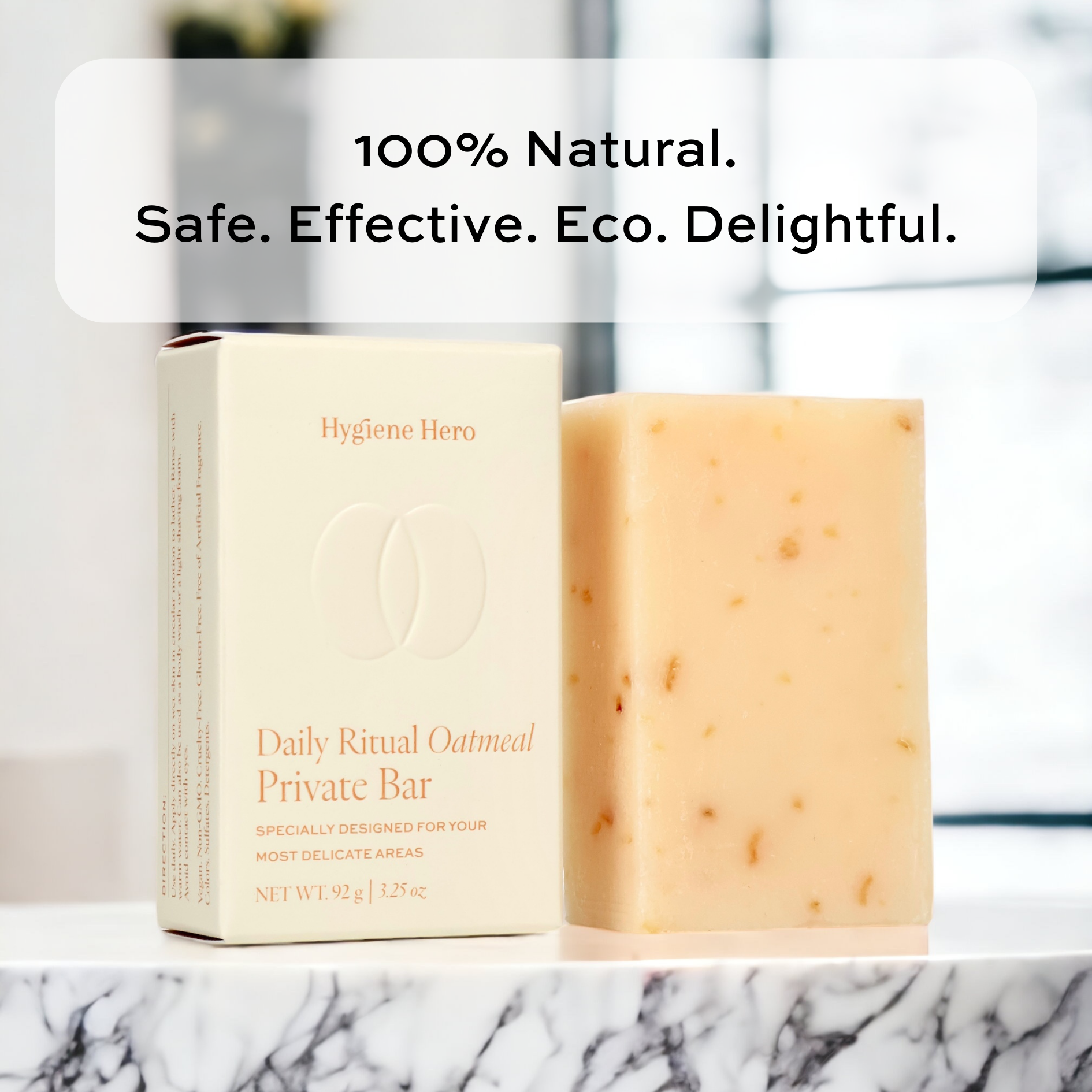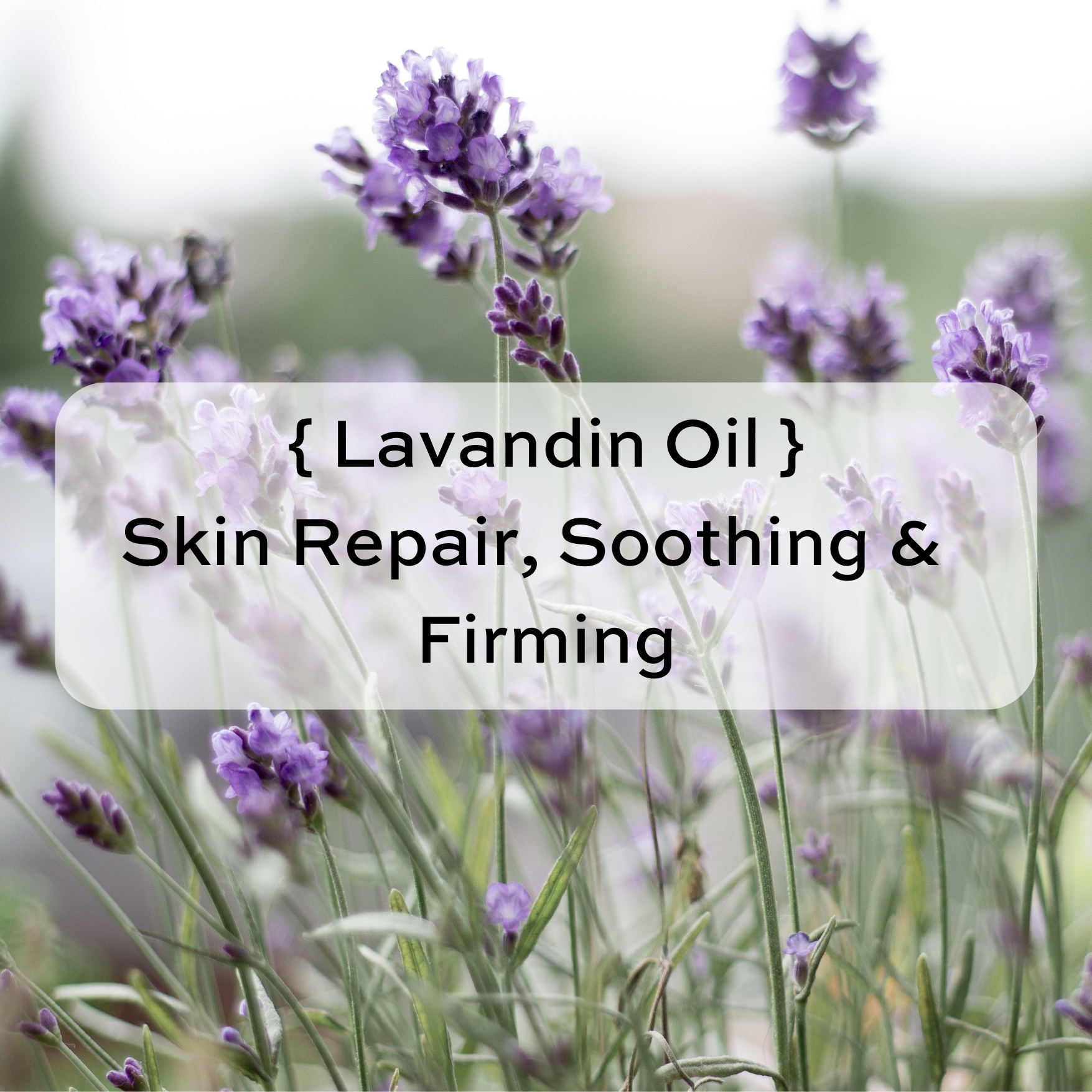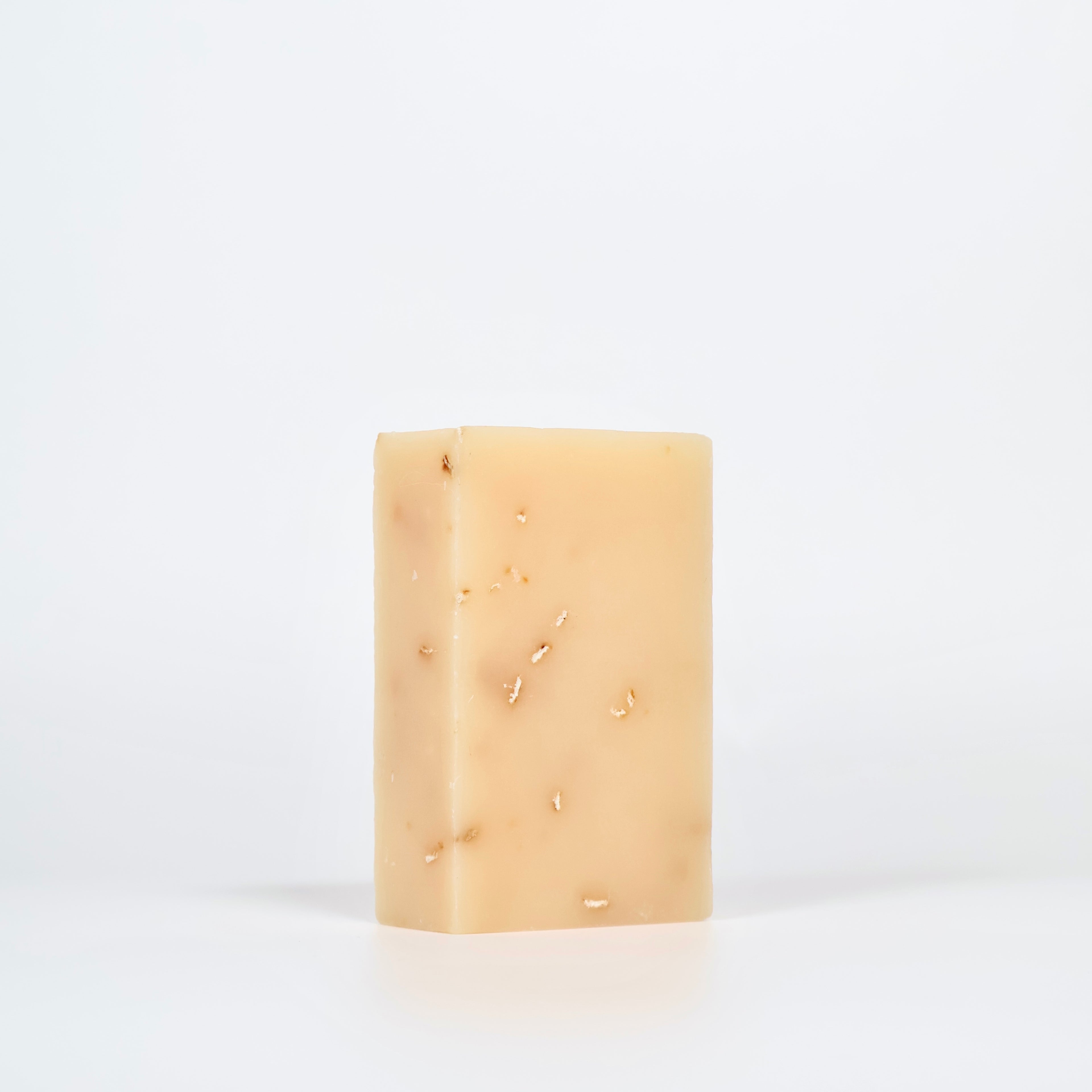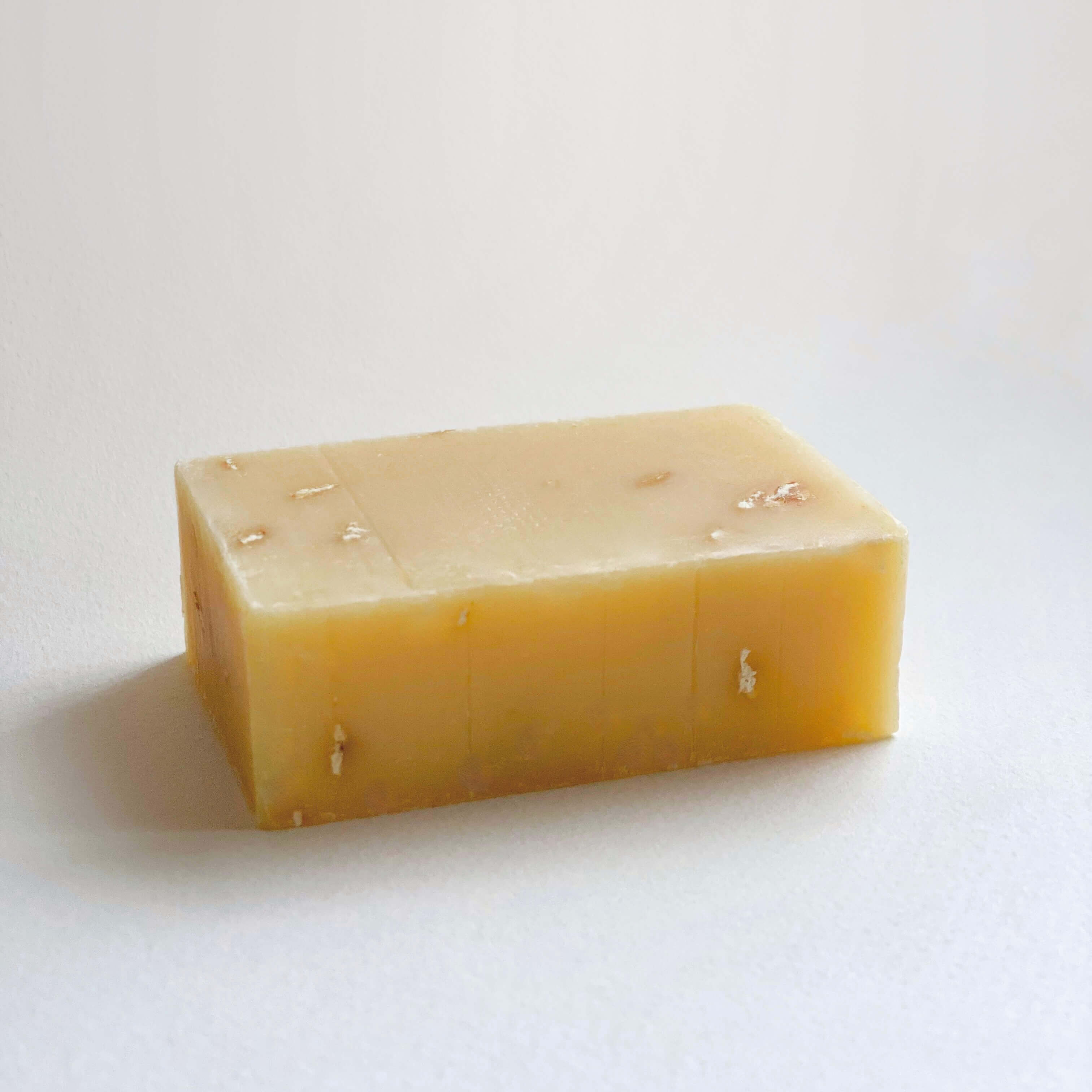 Key Ingredients
Oatmeal

Benefits: Moisturizes & gently removes dead skin cells

Eucalyptus

Benefits: Strengthens skin's natural barrier & boosts skin moisture

Lavender

Benefits: Soothes & protects skin

Rosemary

Benefits: Deodorizes & soothes irritation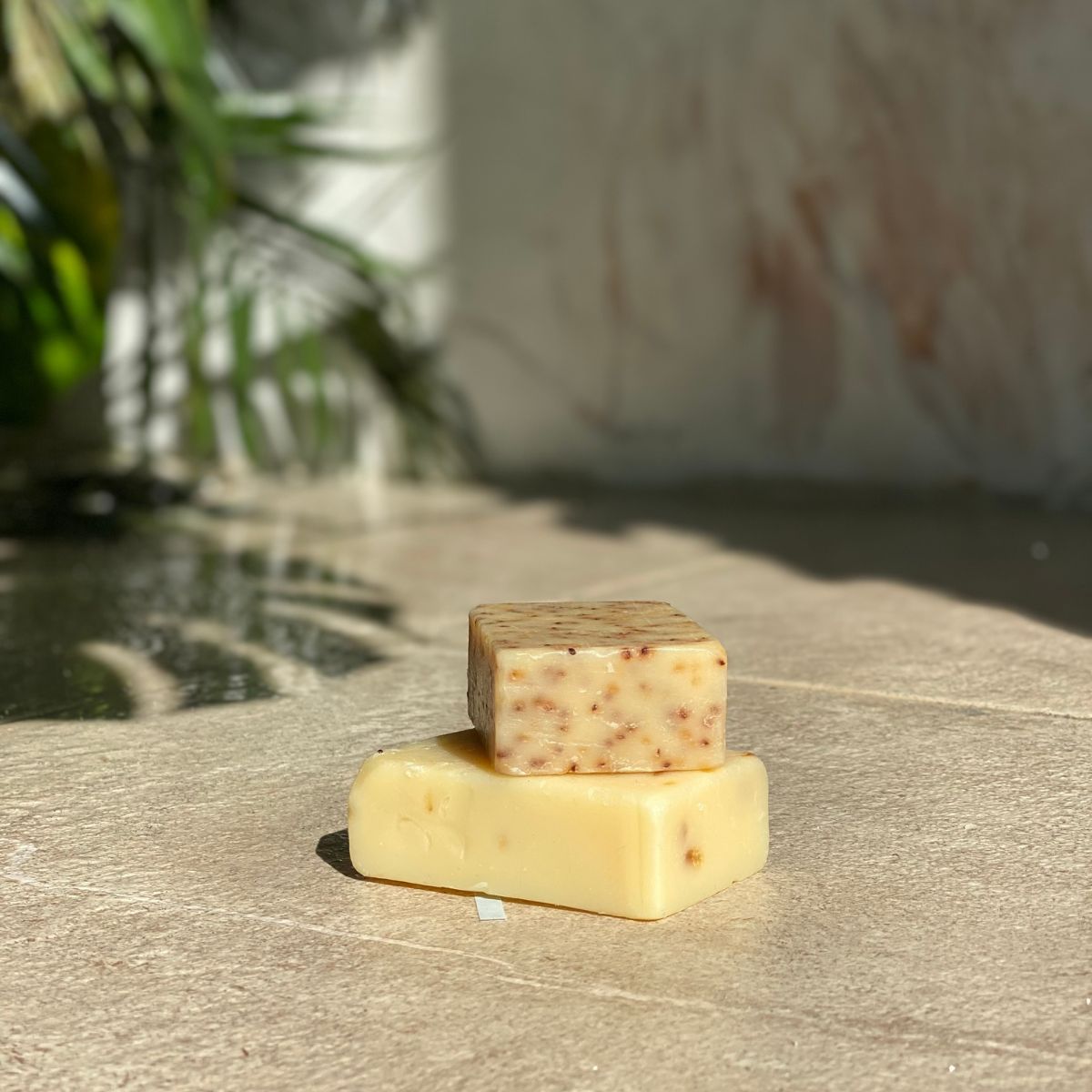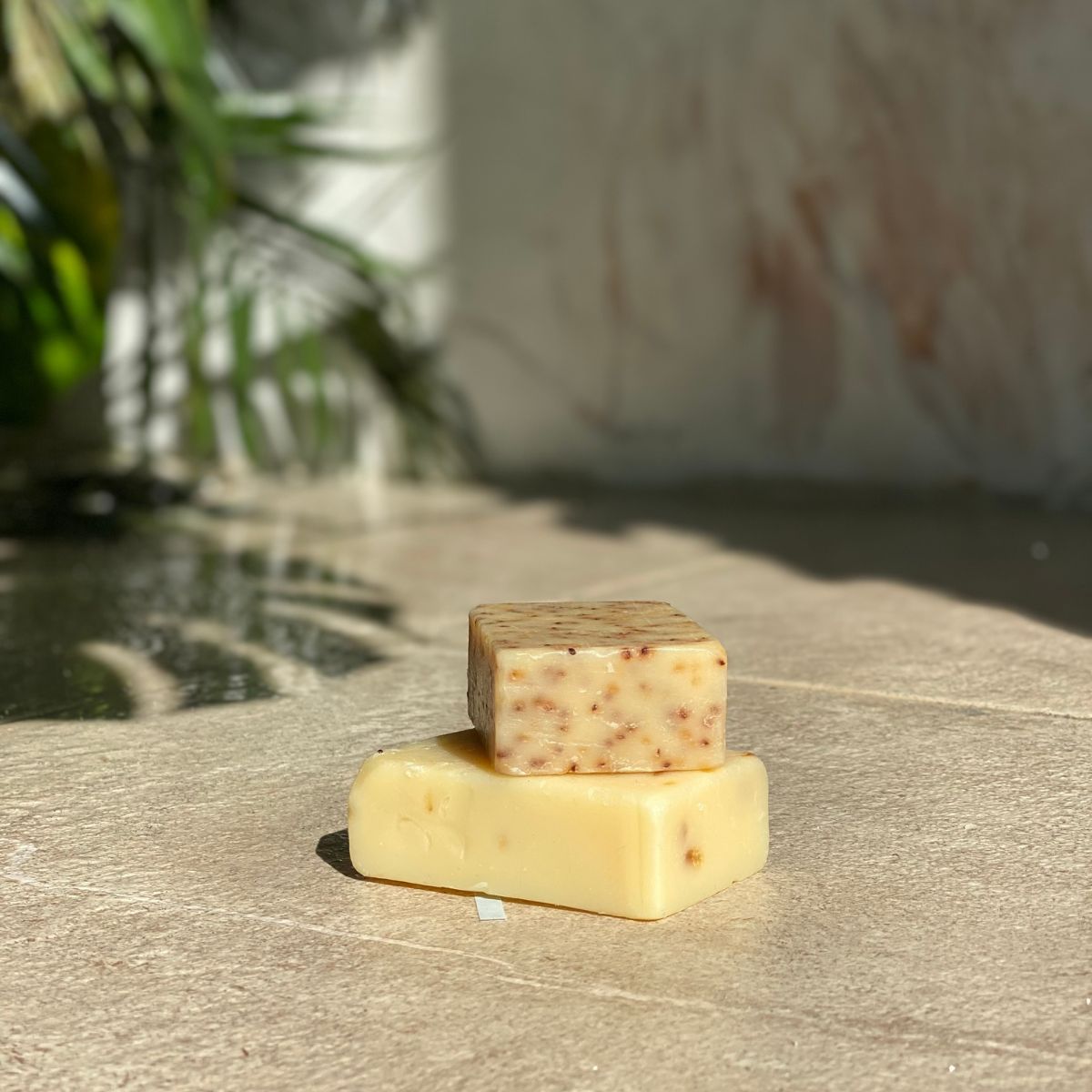 Level up how you take care of your vulva with our two-bar regimen designed specifically for this sensitive area. When not properly cared for, the delicate skin around your vulva can suffer from bumps, dryness, uneven pigmentation, dark patches, and ingrown hairs. That's where our powerful Private Bar duo comes in to save the day.
First, our Daily Ritual Oatmeal Private Bar soaks up excess oil, reducing bumps from breakouts. The bar's anti-inflammatory properties treat dry skin and remove dead cells. Amino acids help reduce skin discoloration or dark spots, while Vitamin B1 boosts blood circulation and brightens skin tone.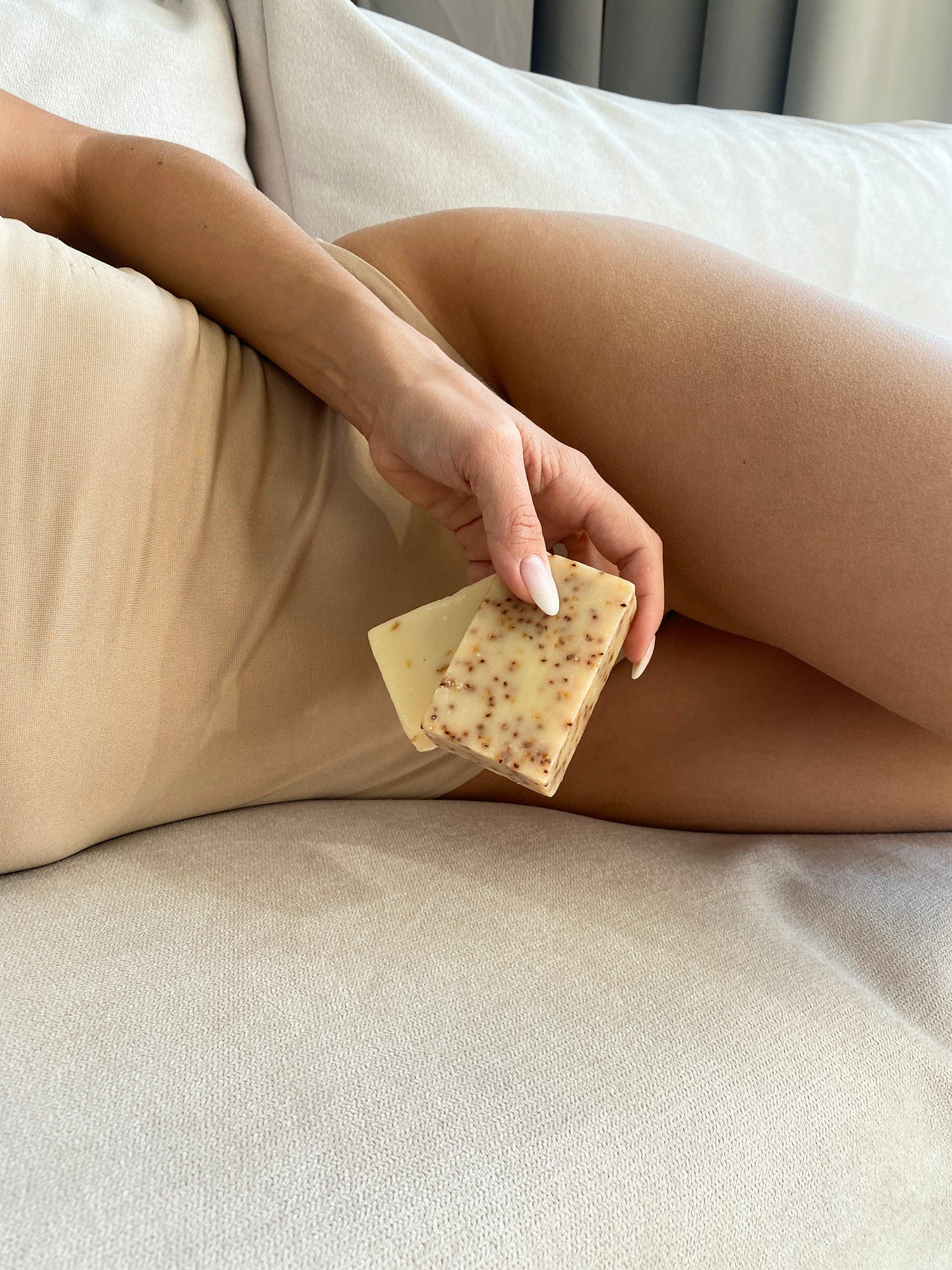 Then, our Exfoliating Cranberry Private Bar resurfaces your gorgeous skin with 100% natural cranberry seeds. This bar evens out skin tone, leaving your vulva looking smooth and bright, and feeling super-soft and smooth. Because cranberry seeds are packed with Vitamins A, C, E and K, they also provide a protective barrier against bacteria and limit the signs of aging.
Vaginal odor is a common issue for many women and can occur for a variety of reasons. Good hygiene for the surrounding area is one of the simplest and best solutions. The natural oils found in our Private Bars–like Lemongrass, Orange, Eucalyptus and Rosemary–smell delightful and will leave you feeling fresh and balanced all day long. Taking care down there has never been simpler!
Our Commitment to You: 
100% natural | Handcrafted | Vegan | Non-GMO | Cruelty-Free | 
Free from Artificial Fragrance, Colors, Sulfates, Detergents & Gluten
Choosing a selection results in a full page refresh.