Balance + Brighten Private Kit
Bar: 3.25oz / 92g | V.V. Oil: 1.7fl. oz. / 50mL
Regular price

$58.00

Sale price

$55.00
*We have recently updated our look. During this transition period, you may receive products in new or old packaging. Rest assured that their contents and formulations are the same.
Share
Description

V.V. Oil

Specifically designed to nourish and hydrate your most private areas, V.V. Oil rebalances your microbiome for a smoother, less irritated surface. This proprietary post-biotic oil blend helps prevent delicate skin from being disrupted by sweat, tight clothing, humidity, and more.

Use it to:

- Prevent ingrown hairs
- Smooth and brighten skin
- Hydrate dry patches

No artificial fragrance is needed in this luxurious, plant-powered formula — the natural scent leaves your skin feeling (and smelling!) clean all day long. The base exclusively uses nature-derived emollients, and natural antioxidants to keep you fresh. Rosemary, sunflower seed + rice bran extracts help keep the skin smooth and elastic.

Exfoliating Cranberry Private Bar:

Activate your selfcare superpower with our Exfoliating Cranberry Private Bar. This all-natural facial-grade soap is designed to gently clean, soothe and protect the delicate skin around your vulva–even after shaving!

Here's how it works:

- Exfoliating cranberry seeds resurface radiant skin, reducing bumps and ingrown hair
- Natural ingredients enhance your unique pH to help reduce irritation and redness
- A special blend of essential oils–including Lemongrass, Orange, and Rosemary–eliminate odor with a lovely, clean scent

Perfect for the delicate skin on your face, arm pits, or vulva, but strong enough to be used from head to toe. Pair with the Daily Ritual Oatmeal Private Bar for a powerful two-part hygiene regimen that will have you feeling fresh and fabulous all day.

Directions For Use

V.V. Oil: Apply 2-3 drops onto clean skin and massage until absorbed. Product can be used on skin around the vulva, inner thighs, underarms, and other parts of the body that tend to suffer from dryness or ingrown hairs due to frequent shaving and waxing. PLEASE NOTE: THIS PRODUCT IS NOT INTENDED TO BE USED INSIDE THE VAGINA

Exfoliating Cranberry Private Bar: Apply directly on wet skin in circular motion to lather. Rinse with warm water. Use 2-3 times a week to reveal more radiant skin.

For external use only. Avoid contact with eyes.
Ingredients

VV Oil: CAPRYLIC/CAPRIC TRIGLYCERIDE(COCONUT DERIVED), SIMMONDSIA CHINENSIS (JOJOBA) OIL, OLEA EUROPAEA (OLIVE) FRUIT OIL, SACCHAROMYCES FERMENT, ASPERGILLUS FERMENT, NATURAL FRAGRANCE, ORYZA SATIVA (RICE) BRAN EXTRACT, ROSMARINUS OFFICINALIS (ROSEMARY) EXTRACT, HELIANTHUS ANNUUS (SUNFLOWER) SEED EXTRACT, TOCOPHEROL

Exfoliating Cranberry Private Bar: Saponified Organic Oils of Palm (Sodium Palmate), Coconut Oil (Sodium Cocoate), Olive Oil (Sodium Olivate), Palm Kernel (Sodium Palm Kernelate), Cranberry Seeds (Vaccinium Macrocarpon Seeds), Lemongrass Essential Oil (Cymbopogon Schoenanthus Oil), Citrus Aurantium Dulcis (Orange) Oil, Rosmarinus Officinalis (Rosemary) Leaf Oil

Please note that no orangutans were harmed or impacted by the palm oil used in our bars. As a 100% animal-cruelty free company, we only use certified organic palm oil from Agropalma in Brazil, which is not a habitat for orangutans. In fact, Agropalma won a Greenpeace award for their commitment to the environment: for every acre put into production, two acres are set aside in a nature preserve.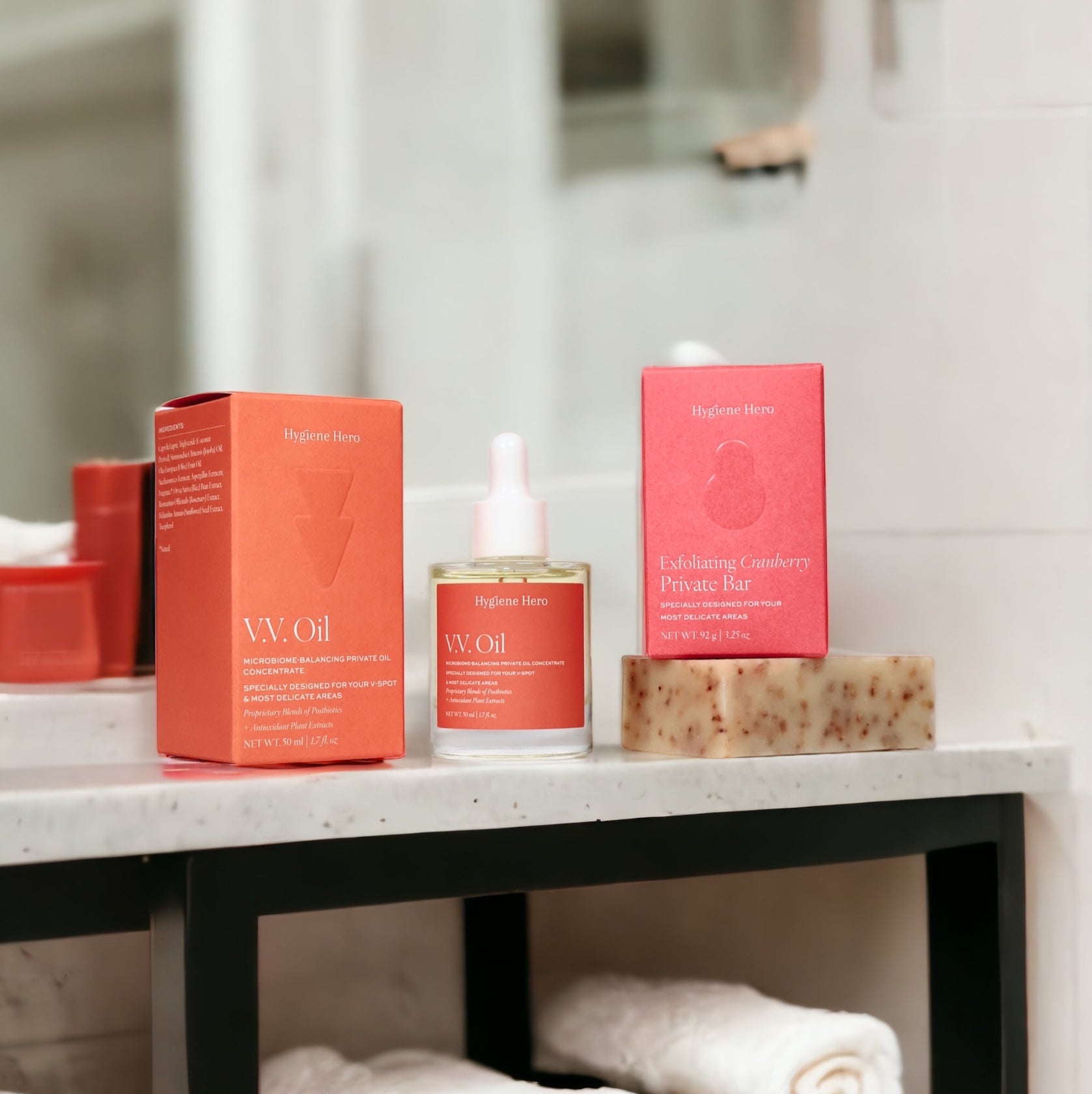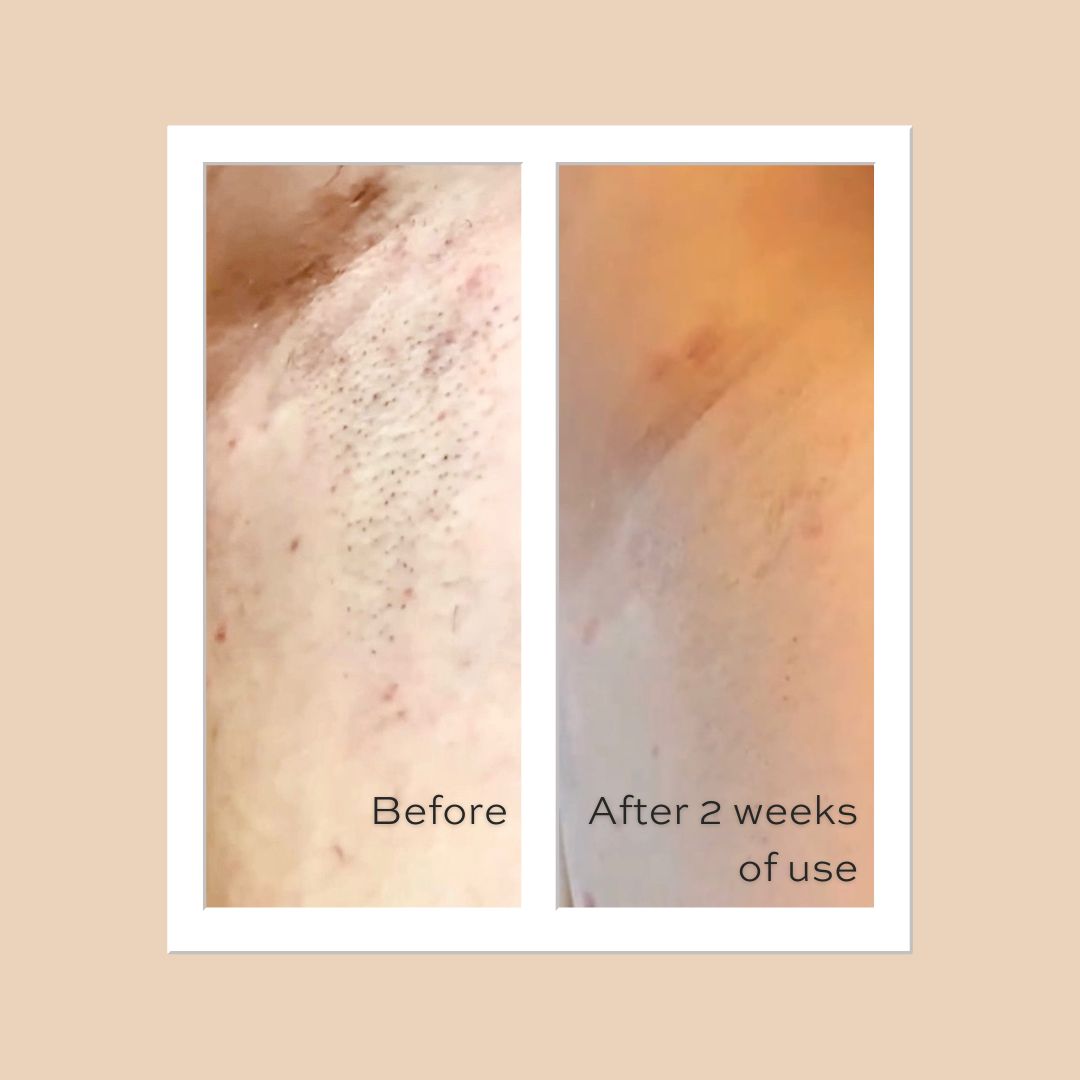 Soothe. Restore. Protect.
Too often, women's most private areas are overlooked and underemphasized in everyday routines. We believe you are worth self-love and self-care everyday, and this two-step system makes it a true delight.
Although each product is a powerhouse individually, these two items are designed to work in harmony with one another. Use them together to gently cleanse, nourish, calm, and balance your sensitive skin.
For your smoothest, healthiest skin, follow these steps: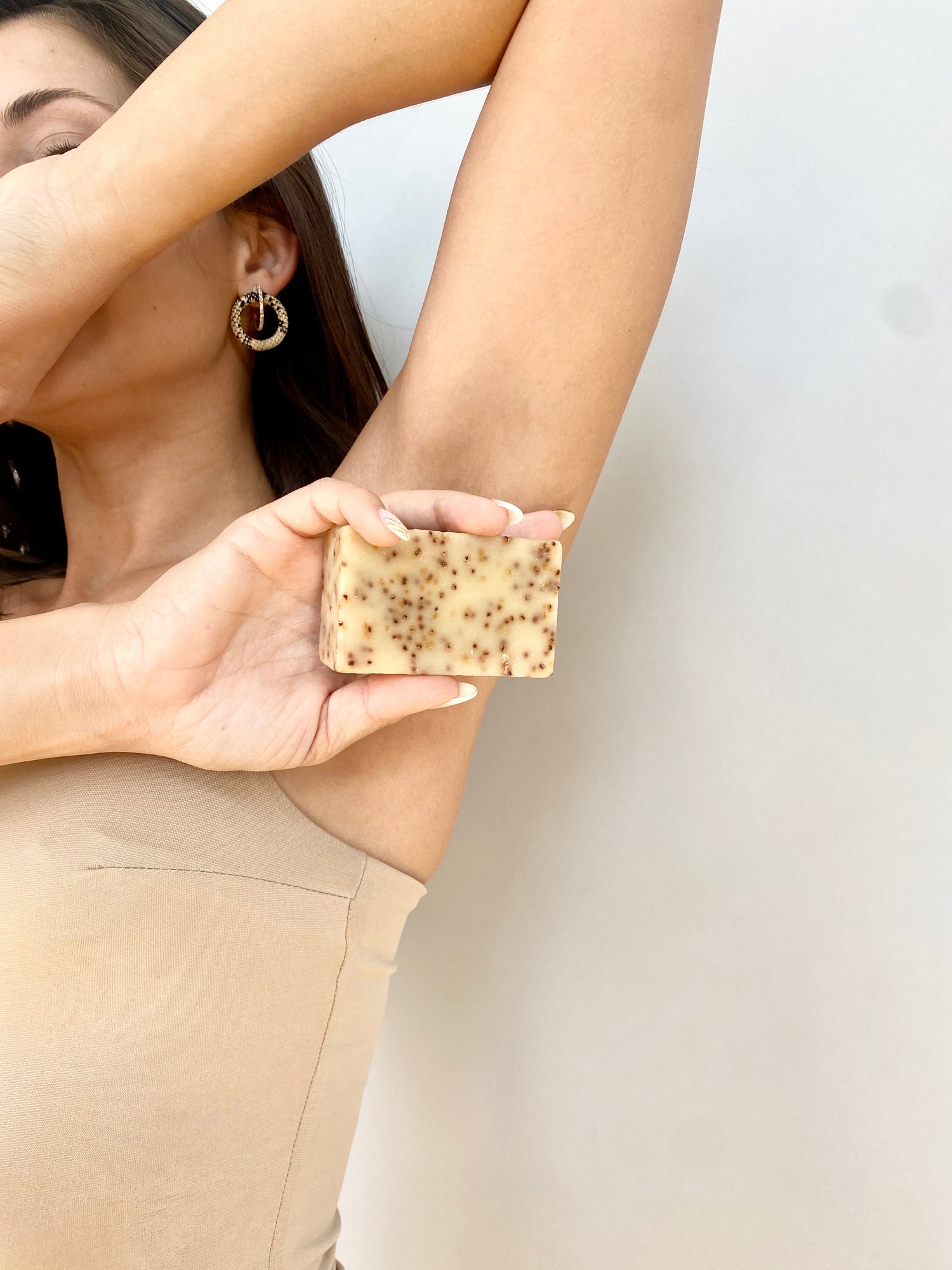 Step 1: Use Every 2-3 Days
Exfoliating Cranberry Private Bar
In the shower, apply to your most delicate areas such as your underarms, vulva, and inner thighs.
Use also on areas prone to dryness, such as elbows, knees, neck, etc.
Use as pre-shave preparation on underarms, bikini area, and legs to help open up pores for a cleaner, smoother shave. It also works well as a shaving foam.
Rinse off with warm water.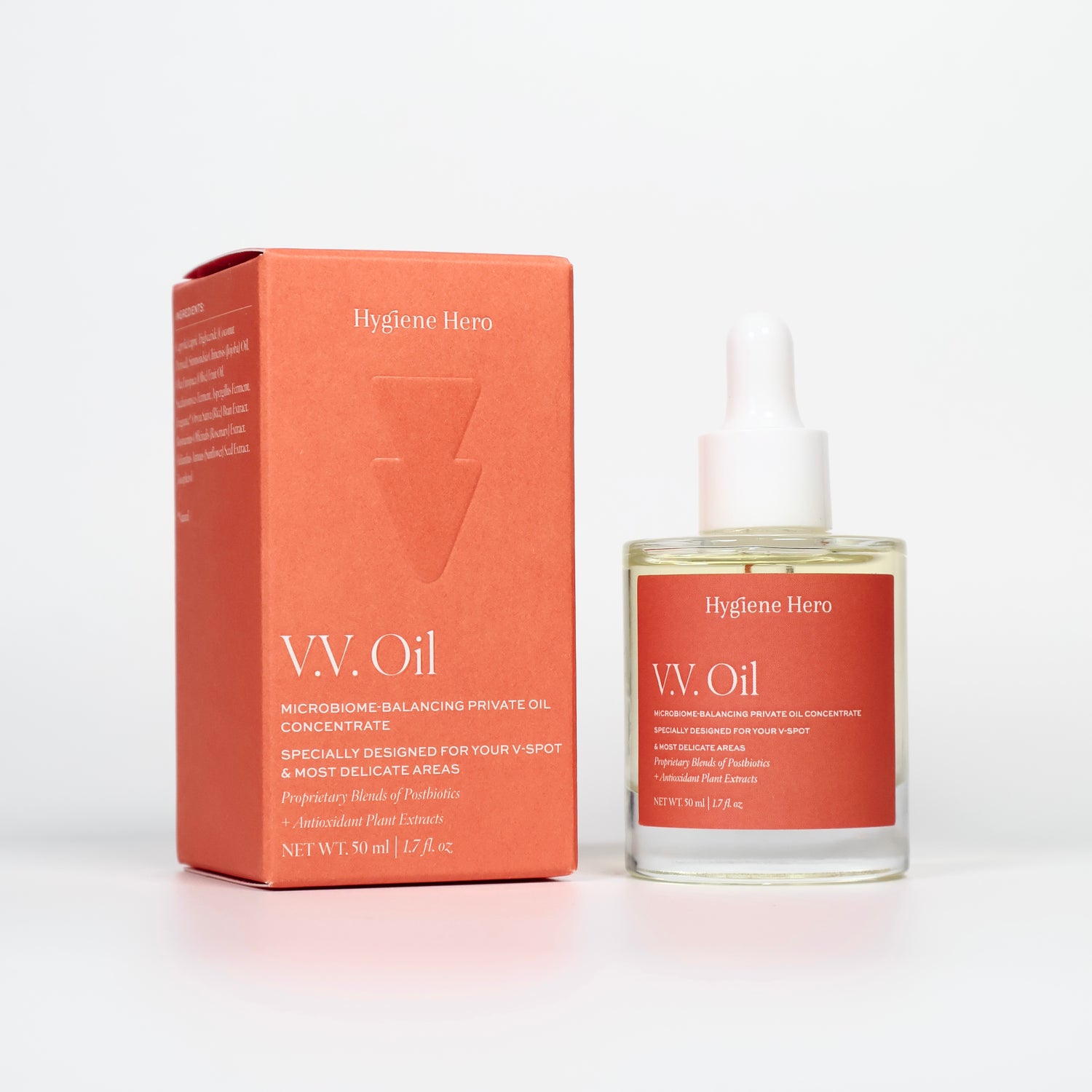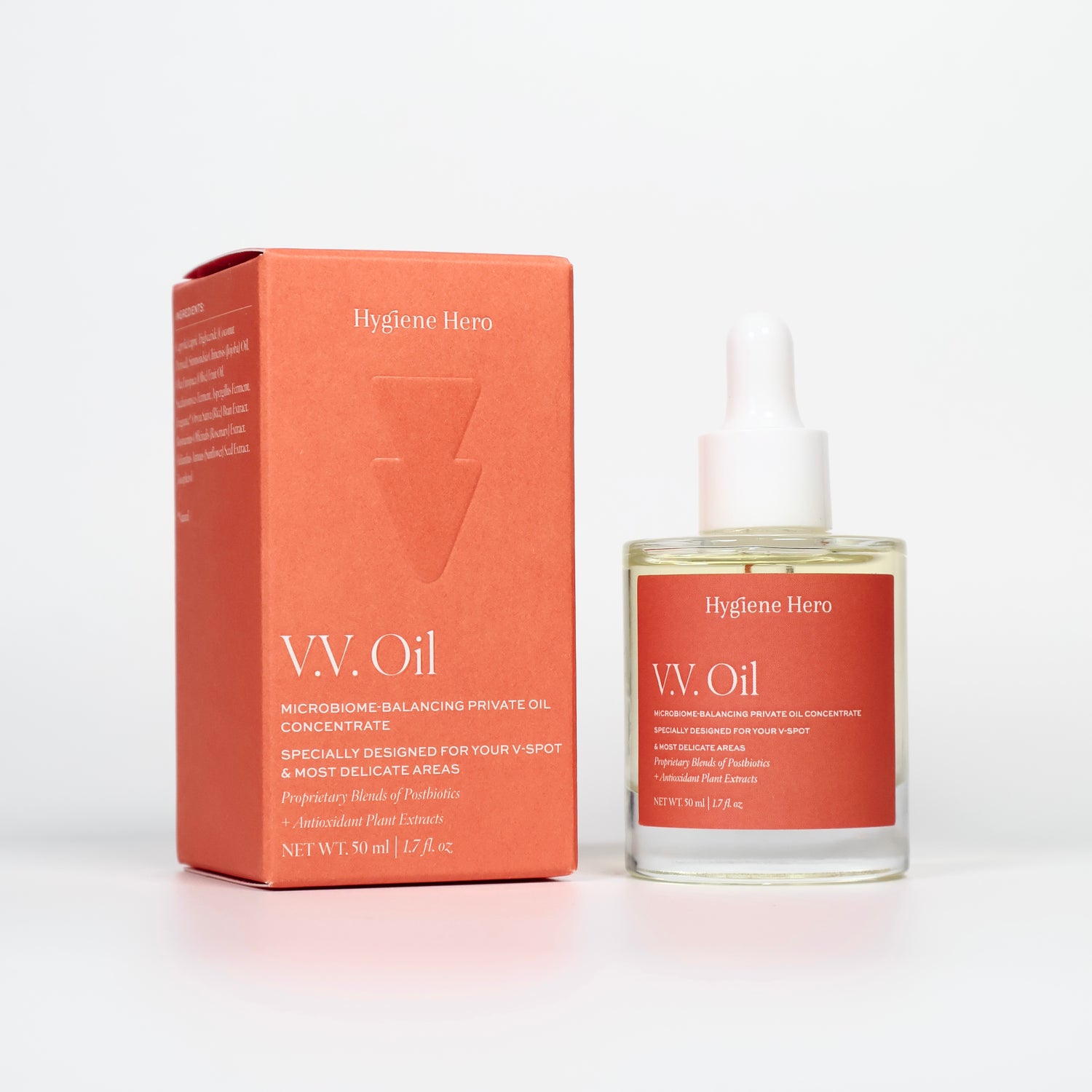 Step 2: Use Daily
Apply 3 drops onto clean palms, and press together. This warms the oil and helps activate the natural ingredients.
For maximum absorption, apply immediately after your bath or shower while your skin is still warm and slightly damp.
Gently massage into skin in delicate areas, like armpits, vulva, inner thighs, and breasts.
It is also effective in those dry, flaky areas such as elbows and knees.
Show yourself a little love by facing each day feeling your freshest!
Our Commitment to You: 
100% natural | Handcrafted | Vegan | Non-GMO | Cruelty-Free | 
Free from Artificial Fragrance, Colors, Sulfates, Detergents & Gluten
Choosing a selection results in a full page refresh.